DIANE'S CORNER ... Celebrate Be Heard Day
Small businesses have many challenges to be successful. It can be an exciting experience to start a business and do something that you love. The reality comes in getting your message out and bring the paying customers in. Getting marketing advice can be an expensive proposition and every penny counts to a small business. Be Heard Day is the day to make things a little easier!
Word of the Day
Definition:

(noun) A small French bagpipe operated with a bellows and having a soft sound.

Synonyms:

shepherd's pipe

Usage:
The young man was adept at the musette and would play it during celebrations.

Idiom of the Day
—

A recognition or citation of merit given to a contestant, exhibition, entry, etc., in a competition despite that person or thing not being awarded a prize or top honor. Primarily heard in US.
History
Alexander Graham Bell Awarded US Patent for Telephone (1876)
Originally an audiologist, professor, and teacher of the deaf, Bell became interested in the idea of transmitting sound waves by wire when he misread a thesis by a German physicist. He mistakenly believed that the thesis implied such a transmission was possible. It did not, but Bell's idea was sound. Later, he described his mistranslation as a "valuable blunder." Three days after receiving a patent for his device, he spoke the first sentence ever transmitted by telephone.
Luther Burbank (1849)
The 13th child of a Massachusetts farmer, Burbank received little formal education, yet he went on to become a groundbreaking horticulturist. Influenced by Charles Darwin's writings, he began breeding plants at age 21. The rapid success of his Burbank potato, the russet variety of which is now the most widely-grown potato in the US, allowed him to move to California and establish an experimental farm, where he developed more than 800 varieties of plants.
Burbank Day
The birthday of naturalist and plant breeder Luther Burbank (1849-1926) is observed in California in much the same way Arbor Day is observed in other states—that is, with activities promoting the value of natural resources and the protection of trees and birds. Burbank moved from his native Massachusetts to Santa Rosa, California, in 1875 and spent the rest of his life there experimenting with new varieties of fruits, flowers, and vegetables. On March 7, a birthday and Arbor Day celebration is held at the Luther Burbank Home and Gardens.
Hearing Loss May Double in the US by 2060, Study Warns
As the U.S. population ages, millions more will face the prospect of losing their hearing, researchers report.
READ MORE:
Hearing loss may double in the U.S. by 2060, study warns
0322 BC - Aristotle, the Greek philosopher, died.
1854 - Charles Miller received a patent for the sewing machine.
1906 - Finland granted women the right to vote.
1911 - Willis Farnworth patented the coin-operated locker.
1933 - The board game Monopoly was invented.
1955 - "Peter Pan" was presented as a television special for the first time.
1955 - Phyllis Diller made her debut at the Purple Onion in San Francisco,
CA
.
1987 - Mike Tyson became the youngest heavyweight titleholder when he beat James Smith in a decision during a 12-round fight in Las Vegas,
NV
.
2009 - NASA's Kepler Mission, a space photometer for searching for extrasolar planets in the Milky Way galaxy, was launched from Cape Canaveral Air Force Station,
Florida
.
DAILY SQU-EEK
1.
2. Edinburgh Yarn Festival
Pictures of the day
Marriott Henry Brosius
(1843–1901) was a
Republican
member of the
U.S. House of Representatives
from
Pennsylvania
. A
Civil War
veteran, in 1868 he was admitted to the bar and commenced practice in
Lancaster, Pennsylvania
. He was elected to the
51st United States Congress
, serving from March 4, 1889, until his death.
knit
- ST. PATRICK'S DAY
knit
knit
knit
knit
crochet
- ST. PATRICK'S DAY
crochet
thanks, Clara
crochet
crochet
crochet
thanks Marge
Draft Dodger
RECIPE
thanks, Shelley
CROCKPOT RECIPE
SWEETS
ADULT COLORING
CRAFTS
Polka Dot Vases
CHILDREN'S CORNER
... crafts
PUZZLE
Two Pins Jigsaw Puzzle
WORD SEARCH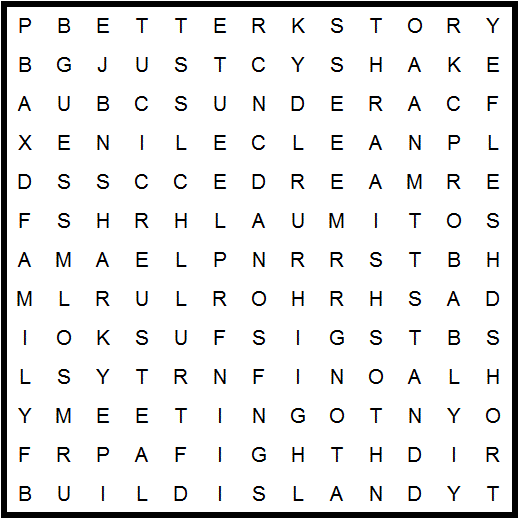 assist

better
build
bunch

cared
clean
clear
cluck
dash
debut
dream

family
fight
first
flesh

guess

held
island

just

larceny
lore

meeting

night
pare
performance
point
probably

rare
return
rude

shake
shape
shark
shelf
shoot
short
shrimp
skull
stand
steal
story

tong

under
QUOTE
At a construction site one day at lunchtime, three men were all sitting down to eat their lunches. The first man opens up his lunch pail to find a PB&J sandwich. "PB&J AGAIN! I swear, if I have to eat this one more time I'm going to jump off this DAMN building!"
The second guy opens up his lunch box to find a tuna sandwich. " TUNA AGAIN! If I have to eat another one of these stinking things again I'm going to jump off with you!"
The third guy looks inside his box and sees a bologna sandwich and screams, "HELL, bologna again, well, if I get this again, I'll jump off this building with ya!"
Well, the next day all three guys find the same types of sandwiches in their containers so they all leave notes as to why they jumped and then jump off. At the funerals the new widows are all sitting together. The first man's wife cries, "If only he had told me, I would have fixed something else."
The second mans wife says "It wouldn't have been a problem...I thought he liked tuna."
But the third guys wife sat their dumbfounded and said " well I just...just...don't understand! He made his own lunch!"
CLEVER
Step 1: Purl front, push the stitch off

Step 2: Knit front, leave the stitch on

Step 3: Knit rear, push the stitch off

Step 4: Purl rear, leave the stitch on
EYE OPENER